guaranteed to elevate and inspire
THE FINEST HANDCRAFTED CUTLERY
a custom knife experience like no other
Design the knife of your dreams
Elevate your cooking game with the custom cutlery that is as unique as you are! With over 1,500 different combinations, this is finally your chance to make the kitchen knife of your dreams come to reality, with Primeaux's own Custom Knife Designer.
You get the opportunity to pick the blade, bolster and handle that speak to your personal style.
Then our dedicated Primeaux team in Knoxville, Tennessee will get to work! About a week later, you will have your very own bespoke custom knife!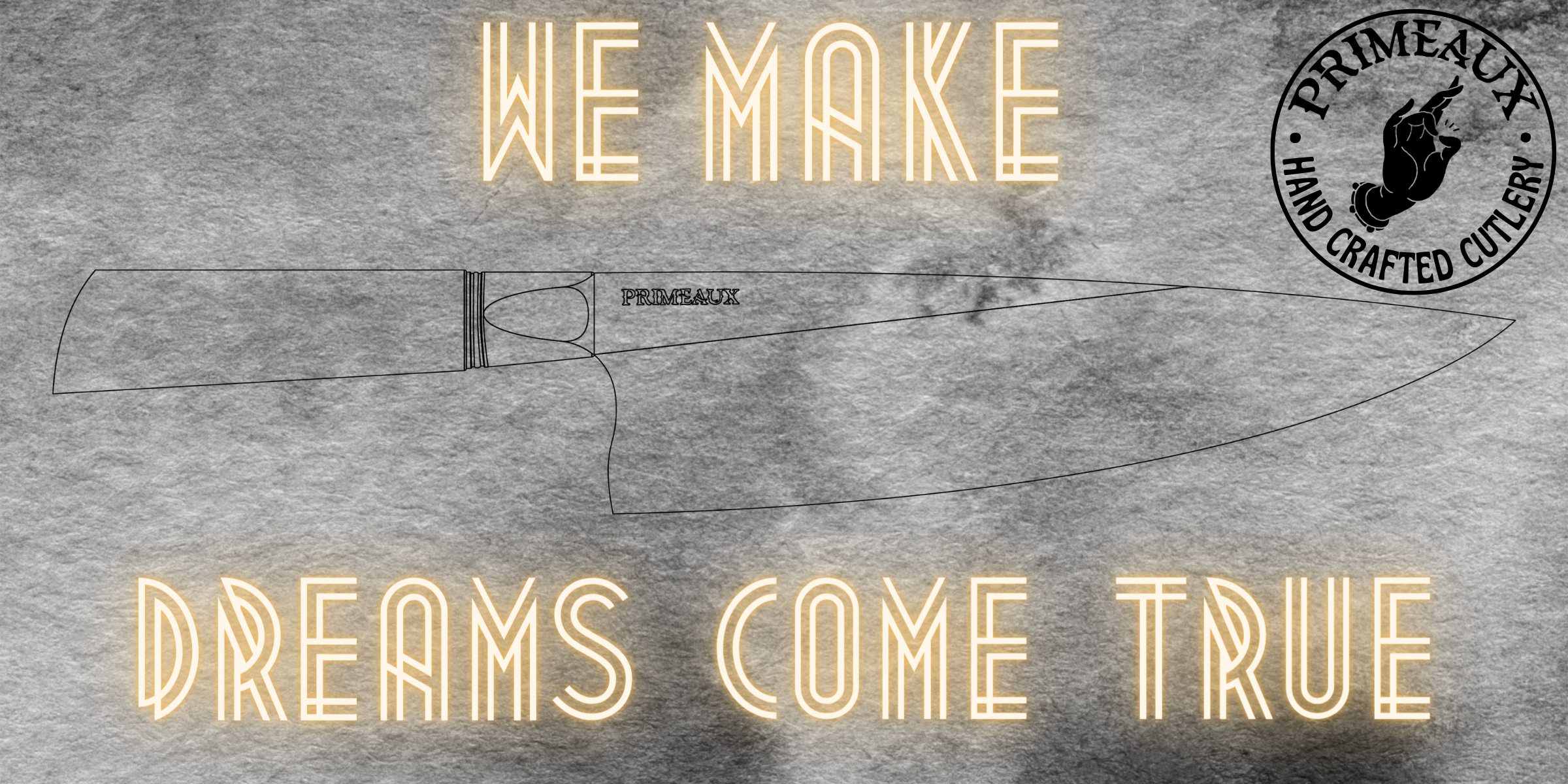 Start your culinary legacy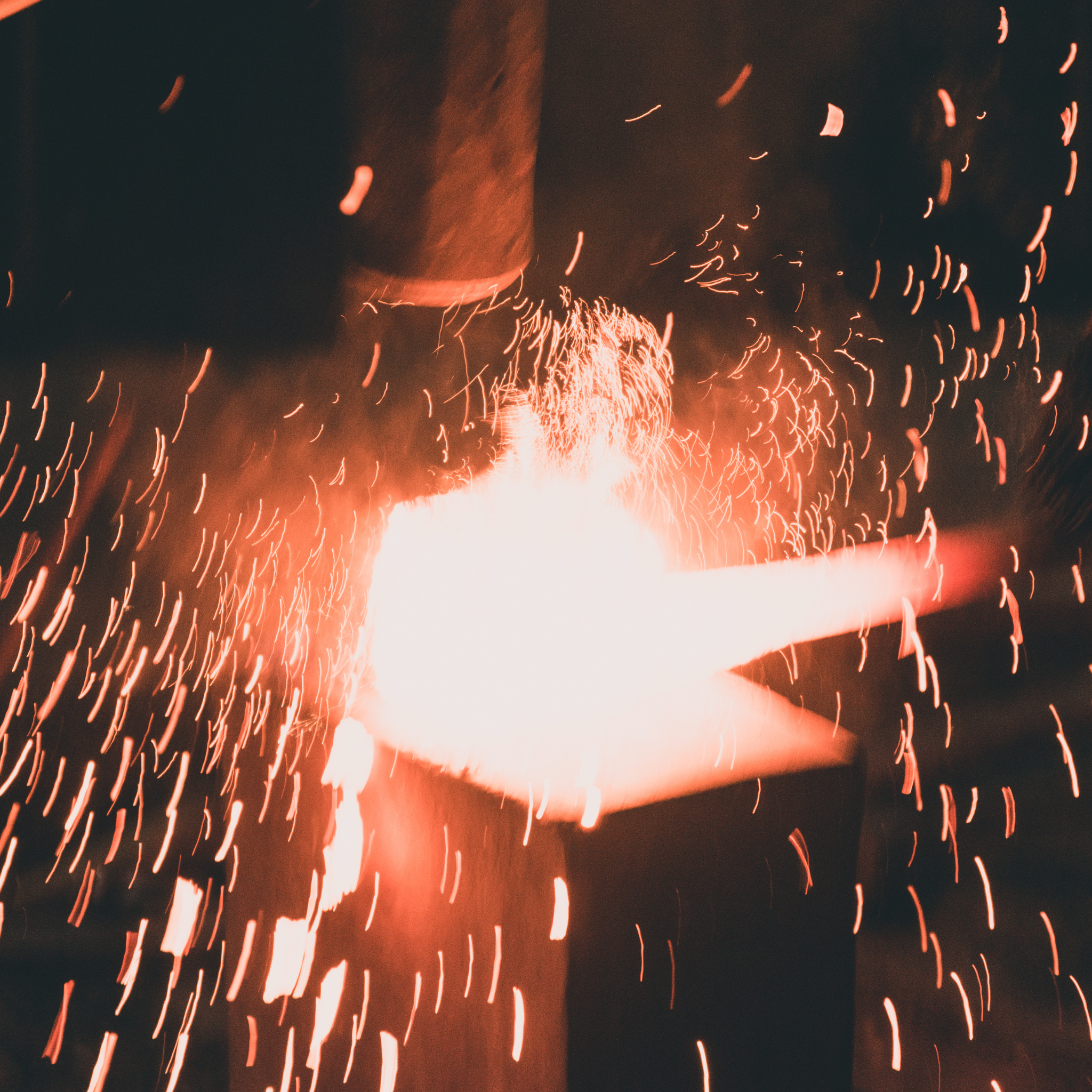 Forging - The Birth of a Blade
At Primeaux, the process starts with a raw piece of high-grade steel. This steel is heated in a specialized forge until it reaches a temperature that makes it malleable. Our skilled blacksmiths then use an anvil and a hammer to shape the heated steel into the basic form of the knife, a process called forging. It's here that the blade begins to take its unique shape, be it a Zenith Chef knife, a Meridian Petty knife, or one of our many other styles.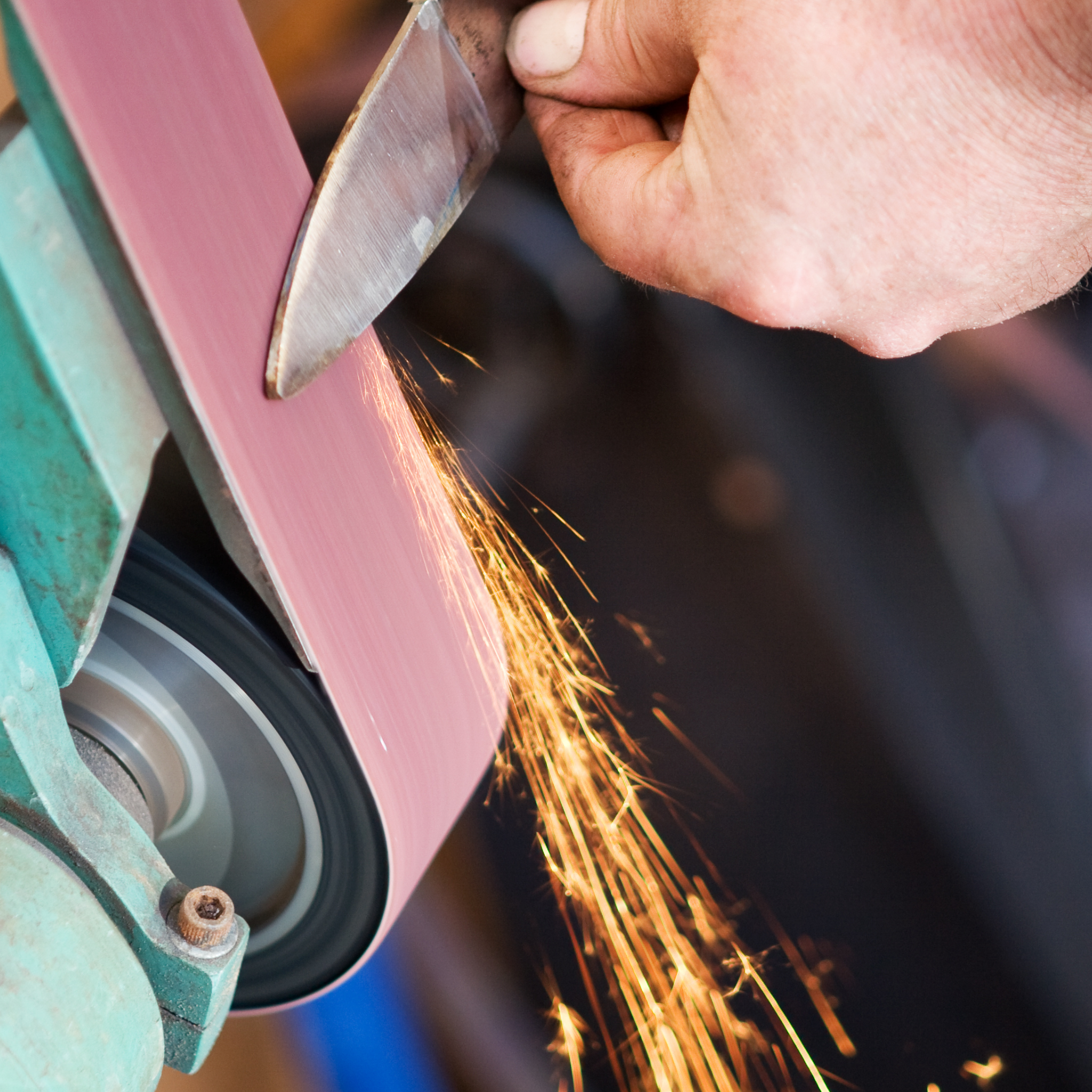 Grinding - Shaping and Sharpening
After the blade has been forged and cooled, it enters the grinding phase. Here, we grind the blade to refine its shape and create the cutting edge. This process requires precision and skill to ensure the blade is both sharp and durable. We gradually reduce the thickness of the blade, working our way towards the edge, until we have a perfectly shaped and balanced knife.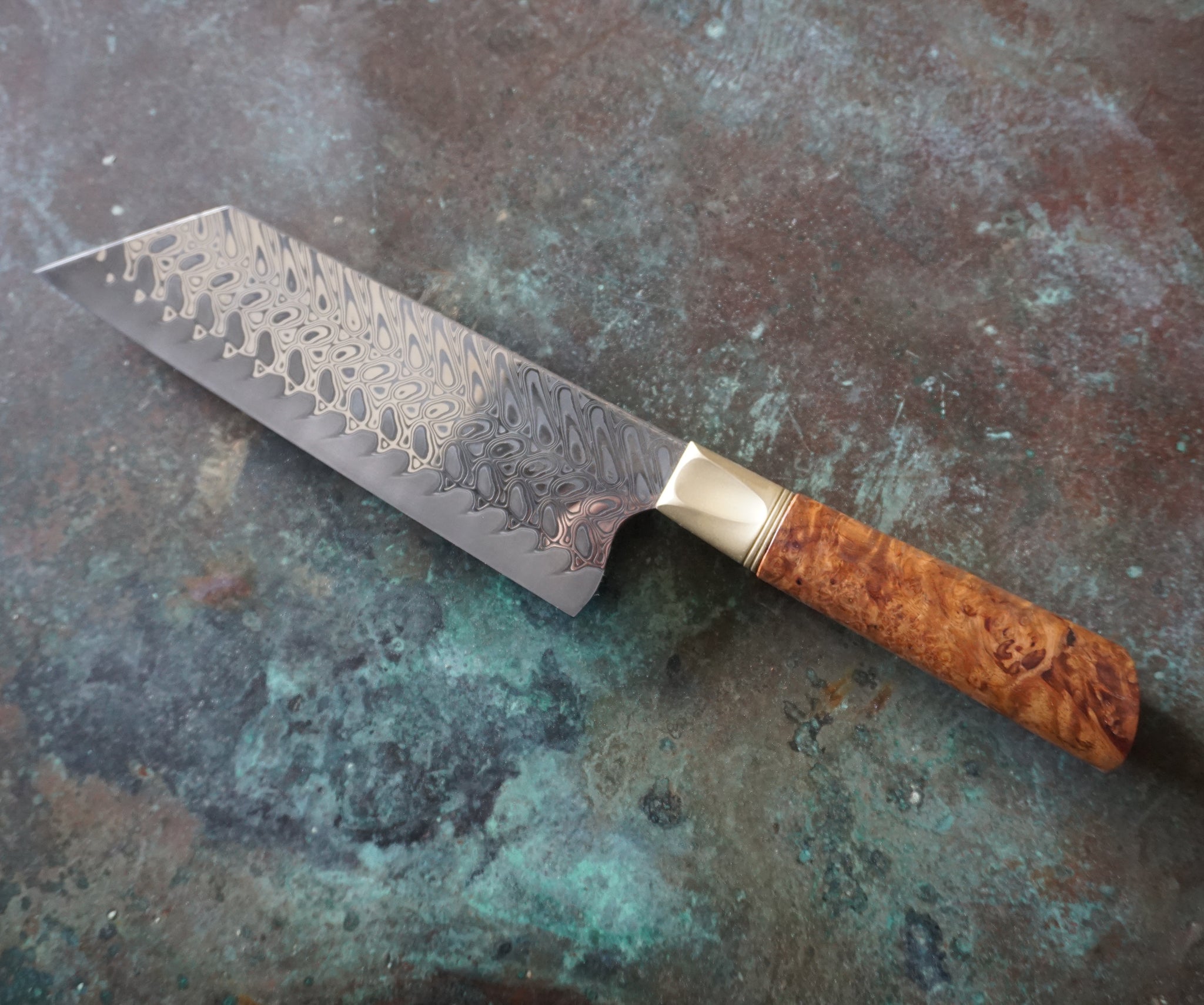 Finishing - The Final Touches
The last step is the finishing process. Here we give the blade a thorough polishing to create a smooth, shiny surface. Simultaneously, we craft the handle, often from a beautiful piece of wood, and attach it to the blade. The knife is then finely honed and inspected for any imperfections. Only when the knife meets our stringent quality standards do we consider it finished, ready to be a part of your kitchen.
Each Primeaux knife is a testament to our commitment to quality and craftsmanship, meticulously handcrafted from start to finish, embodying the spirit of artistry, functionality, and culinary excellence.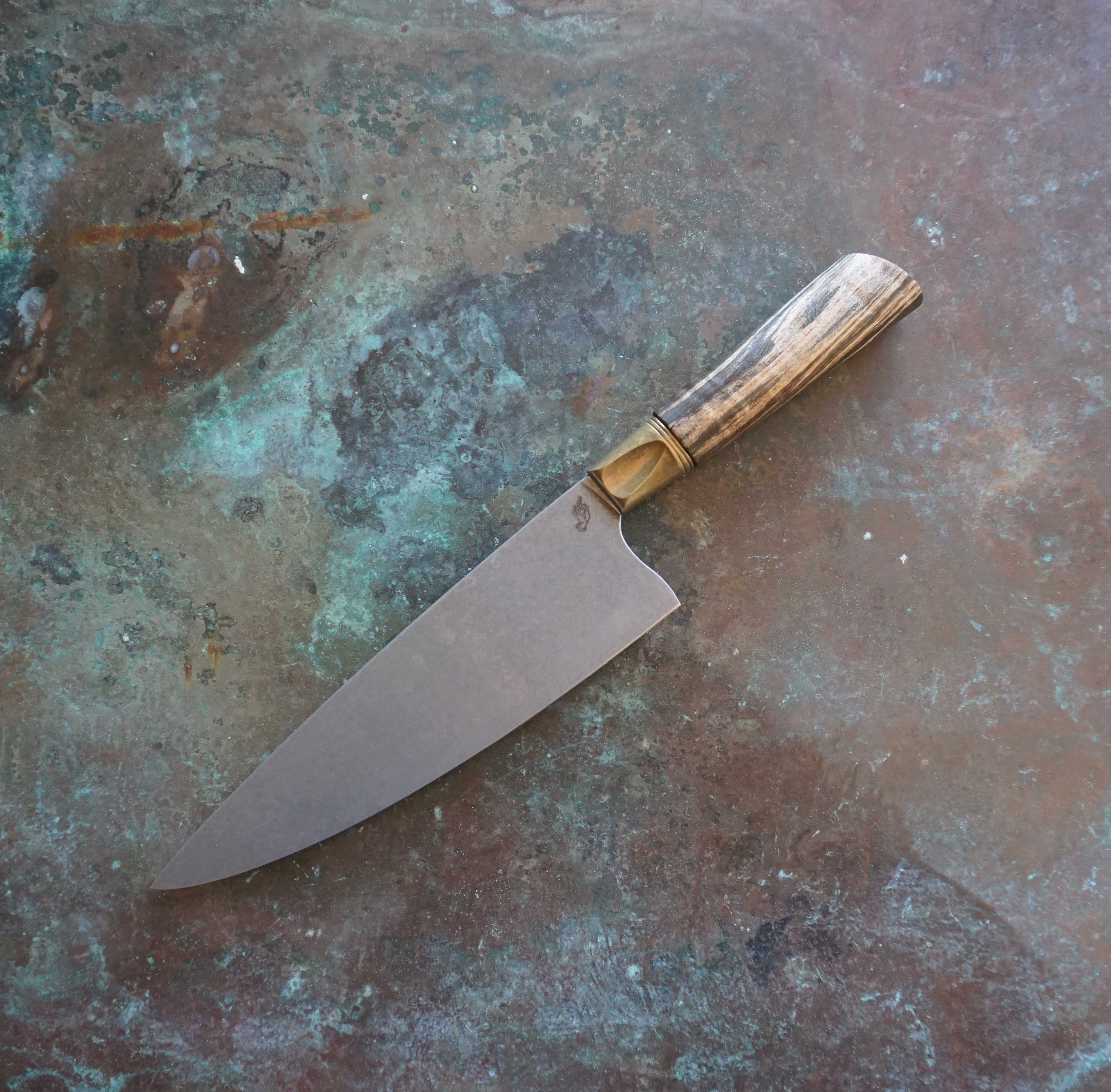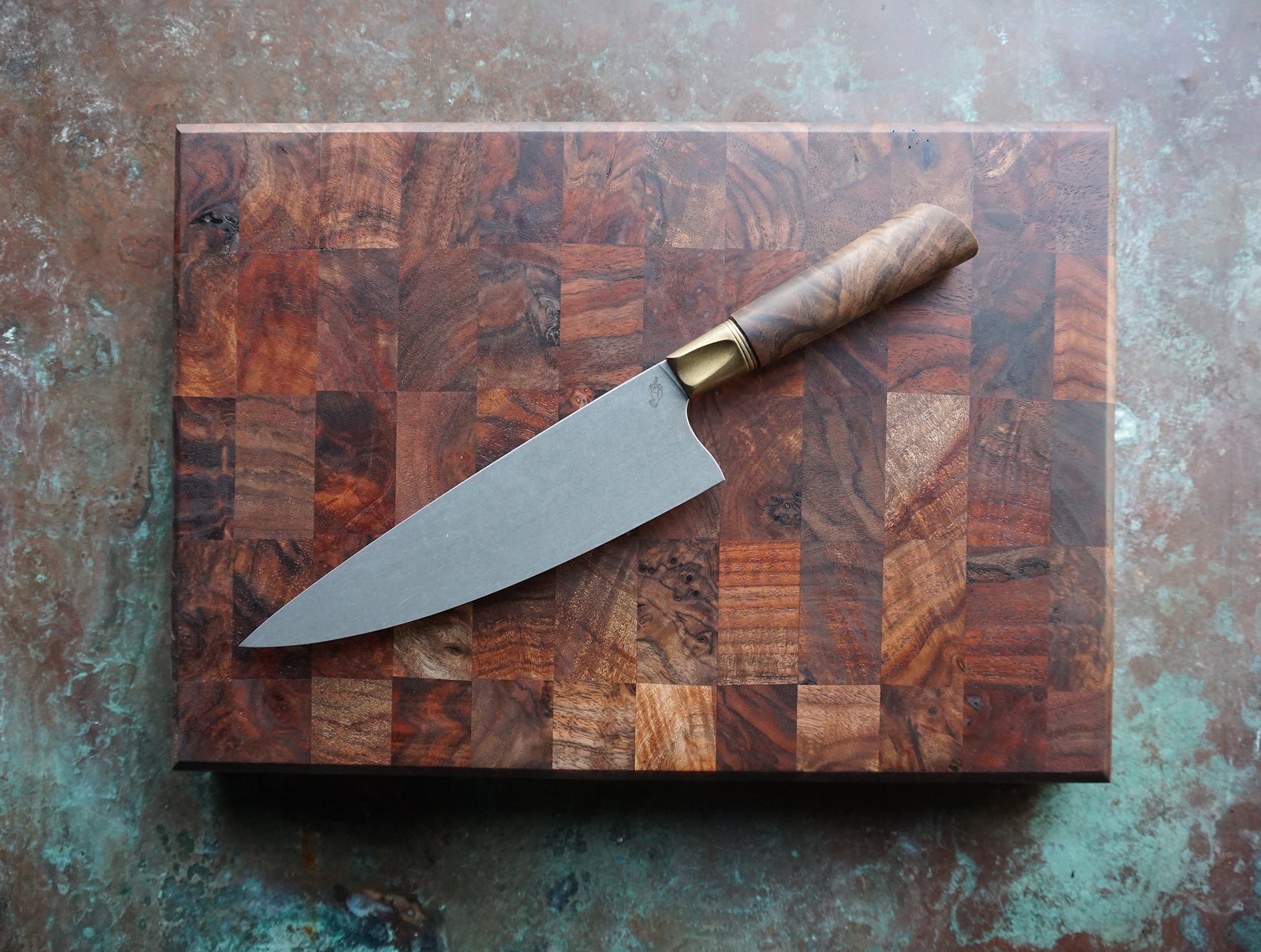 Kitchen Essential:
Primeaux Chef Knife
This Primeaux 8.5" Chef Knife is the epitome of culinary finesse, blending the best of both Western and Eastern style chef's knives. The blade profile is impressively versatile with an added height that offers comfort during food preparation, keeping your knuckles off the cutting board for safer, faster, and more efficient meal prep.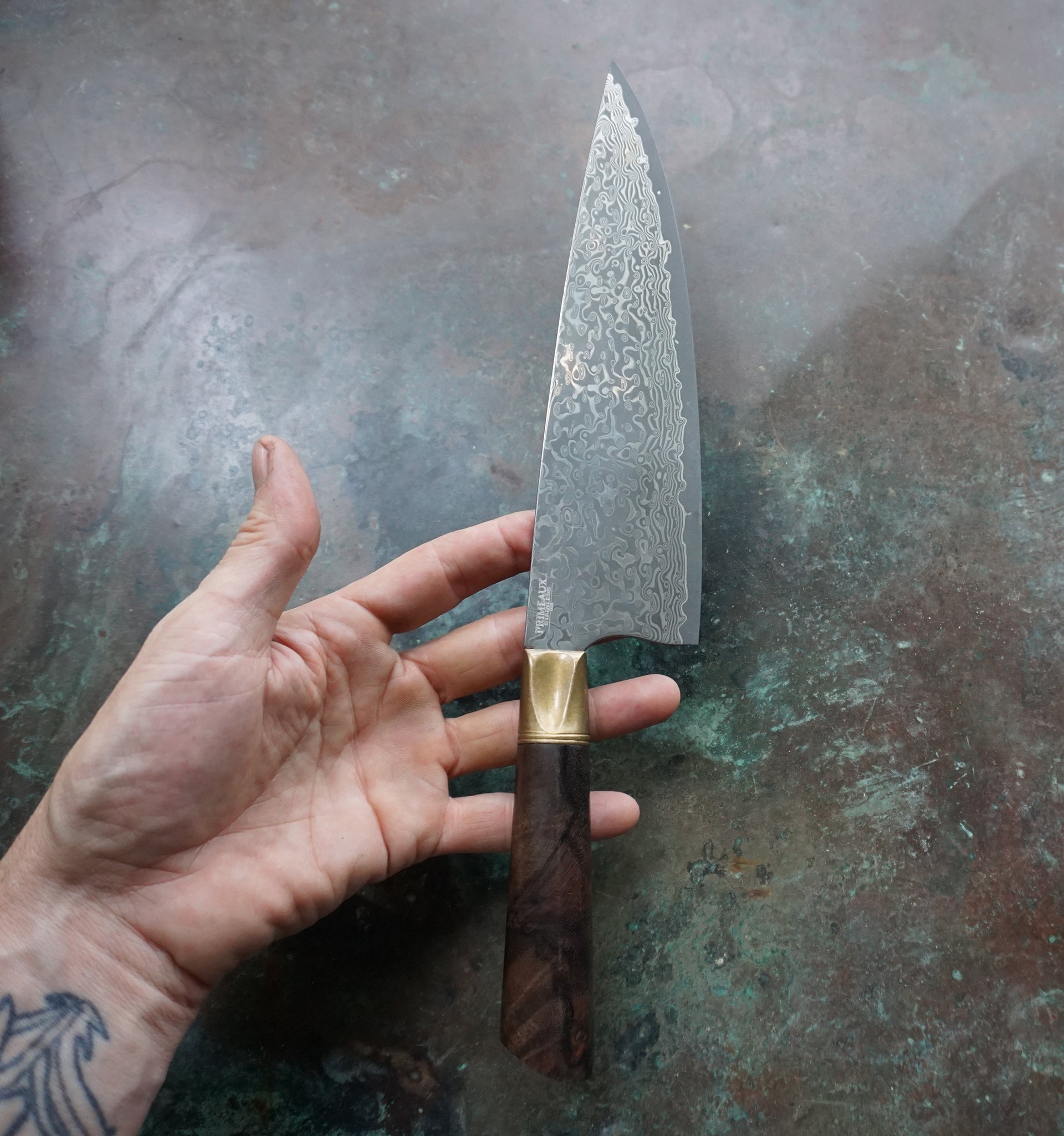 The Primeaux Knife Journey: Quality Commitment, and the best kitchen tools
From Humble Beginnings to Perfection
We spent YEARS designing the perfect knife.  Our signature Primeaux design came from a lengthy and iterative process began years ago in the garage of founder John Phillips, where the dream of Primeaux was born, forging one knife at a time. The end result is a kitchen knife that is perfectly balanced, razor-sharp and a pleasure to use for both professional and home cooks alike.
Crafting Excellence
Through the production of thousands of one-of-a-kind pieces, extensive research and experimentation, finally the signature Primeaux knife was born. We worked through over 1,300 different design iterations to arrive at our innovative handle design that provides the perfect balance, coupled with a comfortable and ergonomic grip that helps you cut better for longer by holding the knife in the correct pinch grip posture.
Finest Quality Ingredients
Our name says it all, PRIMEAUX (Pre'-moh), it means "the best" and we strive to show this in everything we do!  Our small team is focused on bringing only the best products into the world.  So we source the finest quality steels to use in each and every knife which we couple with select handle materials to make the finest cutlery available. We want these pieces to be enjoyed for years to come!
Lifetime warranty
Every piece is expertly crafted to last generations. Decades have been dedicated to honing our craft all to give our customers the absolute finest cutlery and kitchen accessories possible. We only source premium materials and pay close attention to every detail of the knife to ensure the most superior quality. If there should ever be a defect in the materials or craftsmanship, we are more than happy to replace the piece.
We want to be there for you everyday
We envision your Primeaux knife as your trusted companion every time you venture into the kitchen. Accidents can happen - perhaps an edge gets chipped, but don't worry. It might just be the opportune moment for a touch of rejuvenation! Reach out to us for our dedicated repair and restoration services. We take pleasure in providing your knife with the meticulous care it warrants - a true spa day for your cherished utensil. Simply email us at Repairs@primeaux.us and we will lovingly restore your Primeaux knife to its original glory!
Hassle Free Returns
Not ready to wield such incredible power? Or just not what you expected? We are happy to accept returns for a refund or exchange on unused pieces within 30 days of purchase. Just see our Customer Service Page to check the terms and conditions.