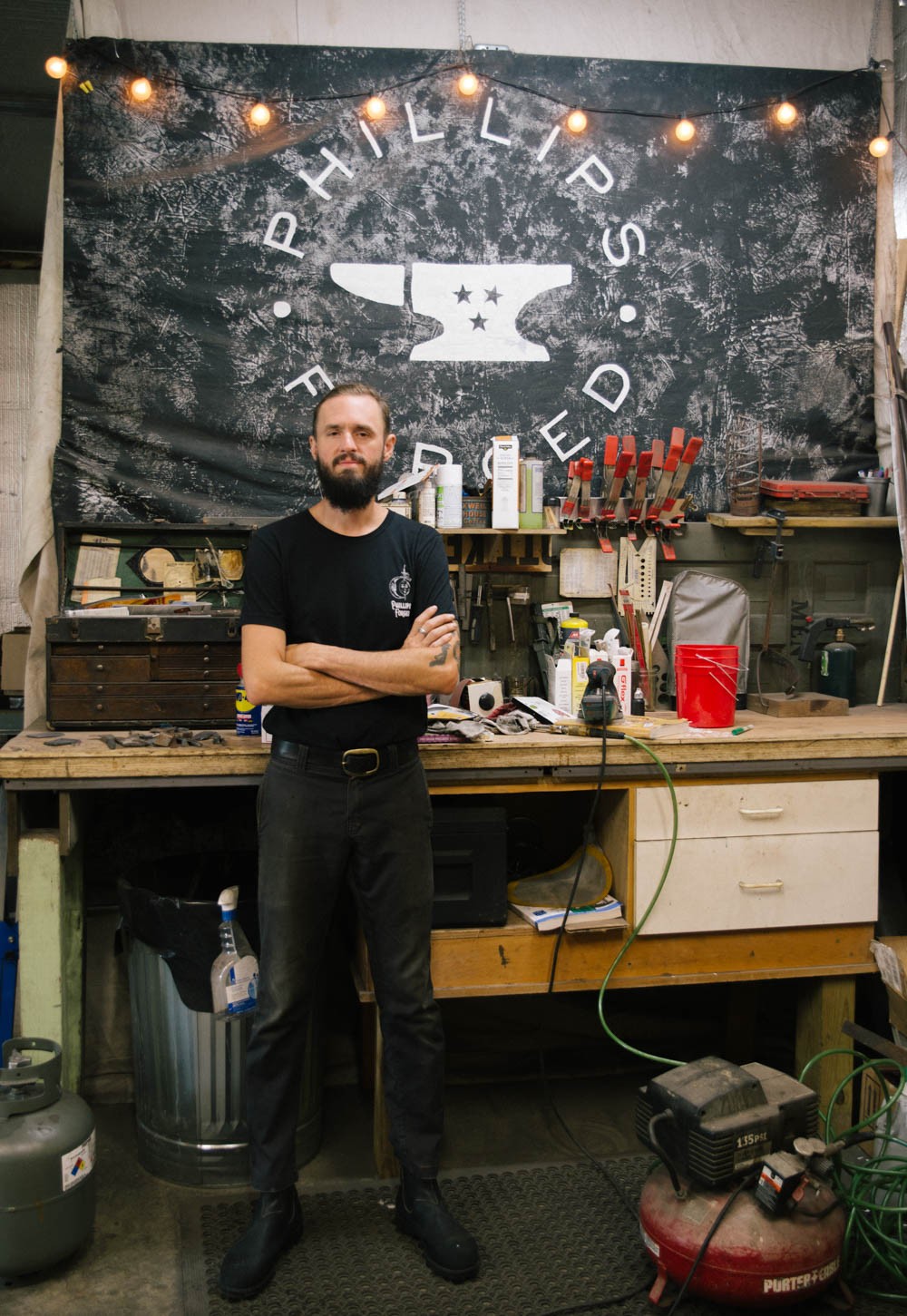 From Phillips Forged to Primeaux
Just a few years ago, tucked away in my garden, behind my modest home in North Knoxville, I started forging culinary knives because I wanted to create a knife that resembled that feeling you get when you hold a delicate, handcrafted ceramic mug in your hands.
When something is handmade, it just feels special. But 'special' takes time. It took me nearly 4 years to even create a knife that I felt proud of-a knife that blended my passion, skill, and beautiful materials. Little did I know, my zeal for creating high-quality, handcrafted knives would eventually land me a spot on the History Channel's hit show, Forged in Fire.
My mission is to create knives that feel like an extension of the user's hand – balanced, with a comfortable perfect pinch grip, making the act of holding it as natural as cradling a warm coffee mug. This commitment to ergonomic design ensures that the knives are not just visually appealing but also feel safe instantly in the hand.
Even before appearing on Forged in Fire, my waitlist for my knives was growing exponentially. That's due in large part to James Beard Award Winning Chef, Sean Brock – formerly of McCrady's in Charleston and Husk restaurants located throughout the Southeast – whom I connected with in 2018 at a craft fair in Nashville.
Realizing that scaling my customized knife business was a big challenge, I began to focus on making the most ergonomic and accessible knife in existence--that's why I started Primeaux. I want to offer customers the best knife in existence. One year ago, I moved from the shed behind my house where it all started into the Primeaux shop at 908 Tyson Street, just down the street from Remedy Coffee and Mighty Mud in Knoxville, Tennessee.
While I believe it's important to lean into your strengths, it's equally valuable to be aware of and work on your weaknesses. In doing so, you not only round out your skill set, but also open up the opportunity for unexpected growth and discovery. Balancing these two approaches is, in my experience, the key to long-term success and fulfillment.
Embracing my passion for knifemaking, a craft that genuinely stirred my spirit and showcased my potential, catalyzed a transformative journey. It gave me a platform to direct my energy towards refining a craft that deeply resonates with me. The result of this intense focus is a level of skill and artistry that fills me with profound pride. Nevertheless, my journey has also taught me the worth of venturing beyond my comfort zone and tackling my shortcomings head-on. Initially, my concentration lay solely on mastering the art of blade forging. However, I soon identified a discrepancy in the quality of my work – the handles didn't meet the same high standard as my blades. Rather than maintaining a narrow focus on my strengths, I chose to broaden my horizons and dedicated time to better my handle-crafting skills. This pursuit not only elevated the quality of my work but also opened the door to the broader world of woodcraft and metallurgy. It instilled in me a deep-seated desire to seek out the most sustainable and visually striking materials, further enriching my craftsmanship. This journey served as a testament to the power of expanding beyond one's comfort zone and the impact it can have on personal and professional development.
Primeaux knives are ever evolving...
I believe that my knives transcend their humble purpose as a kitchen tool and become an heirloom that symbolizes several family generations and the memories of meals shared together. I think having legacy objects are so important in a society where things are so often disposable.
 We will continue to have pop-ups, one-of-a-kind events and classes, niche knife-related products and eventually cookware. I want Primeaux to be your go-to for all of your specialized kitchen needs.
It's been a fantastic year and the transition from artist to entrepreneur has its ups and downs but I was able to create the first iteration and brand new style of knives including the Primeaux Zenith Chef knife and Meridian Petty knives with the 3D printed hand-cast perfect pinch grip bolsters. As you know, there is nothing else out there like Primeaux knives on the market. I feel proud and I am eagerly looking forward to the next chapter.
My knives are also available through the Blackberry Farm Catalog.
Check out these podcasts and learn more about my Founder story:
Listen to my interview on Wake, Dad, Drink & Repeat
Watch my conversation on South of Scruffy with Ben Fields