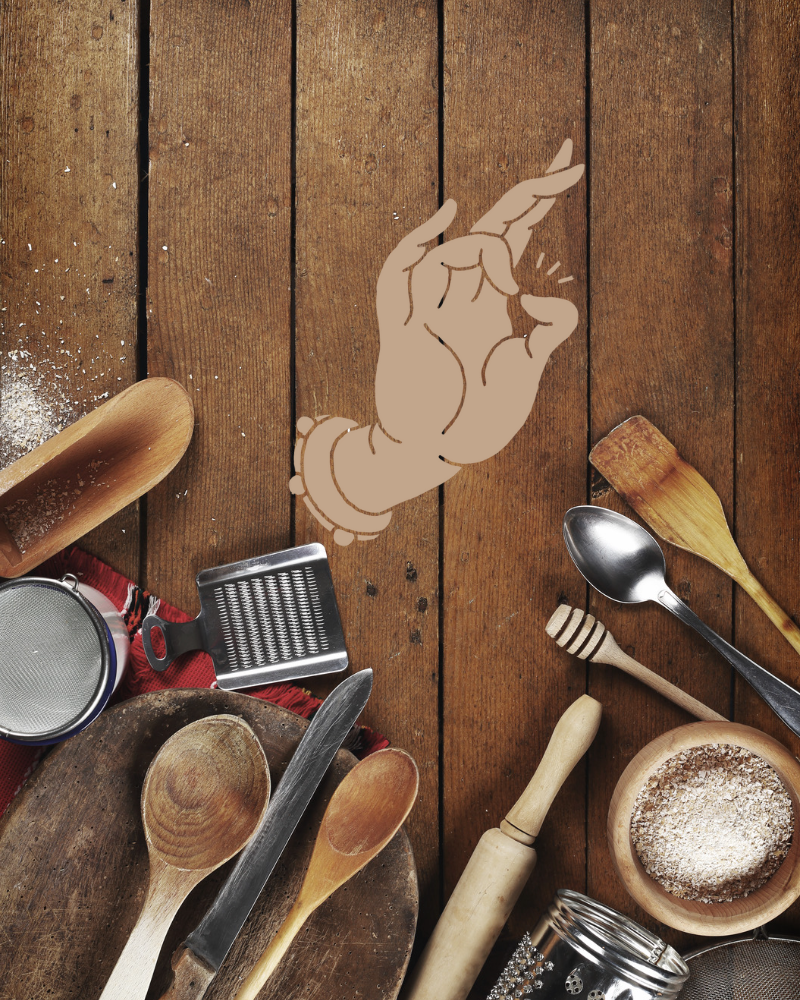 6 Knives that you need to elevate your entire kitchen experience
1. The Zenith Chef- 8.5" Chef Knife
This is our fusion of the both western and eastern style chef's knives. We combine the construction technique of fine Japanese cutlery which utilizes a hidden tang construction.
This style of build hides the metal "tang" of the knife, allowing the full beauty of the wood handle to be seen. There is no reduction of strength or longevity for this style of construction when done properly.
The blade profile offers a nice tall heel, much higher than most standard knives available at 2.25". This extra height helps keep your knuckles off the cutting board making it faster, easier and safer to prep your meals.
The curved profile of this blade is great for rolling into cuts whether you are cutting into a bundle of greens or dicing an onion. Our signature Perfect Pinch Grip bolster provides the perfect balance point as well as the ideal posture for safe and comfortable cutting, making the blade fine to use for both pull or push cuts as well as chopping and dicing.
‍2. The Meridian Petty Knife- 6.5" medium sized knife
Sometimes a paring knife just isn't enough, but the chef is too big….That's why we designed the Meridian Petty knife.
This features the same signature Primeaux handle size, shape and profile of our Zenith Chef, which makes going between knives an easy transition.
We've found that this handle on this blade in particular is extremely comfortable and useful. This mid-sized blade is so handy and versatile that it can be used for anything from trimming a fatty tomahawk steak to carefully trimming citrus for a fancy cocktail.
3. The Spirit of the Kitchen Paring Knife- 4.5" paring knife
We remember our grandmother in the kitchen, peeling apples in her hand with a old paring knife, she would use that knife for nearly everything, even when a bigger knife should have and could have been used. That is why we dubbed our 4.5" paring knife, "the spirit of the kitchen" to remind us of these memories.
‍The Spirit of the Kitchen Paring Knife is the perfect starter if you are just looking for your first piece of fine cutlery, or go all out and get a set of 8 for a great collection of steak knives. (You can even get in touch about a special custom box to keep them all safe!)
4. The Harvest Moon Santoku- 7.5" Santoku knife
This traditional Japanese style knife profile's name means "The 3 virtues" which in this case represent slicing, dicing and chopping.
The non aggressive blade to tip profile is referred to as a "sheep's foot"which creates a  more flat edge profile, that many users like for general prep work. This midsize do it all blade might be your new favorite.
5. The Jack-of-All-Blades Mini Cleaver- 4.5" long blade
Our Primeaux mini cleaver is one of our most popular designs!
This fun little knife is excellent for anything from cracking into that fresh farmers market spaghetti squash, splitting a freshly smoked chicken or breaking into a fresh wheel of well aged gouda. You never know when you just need a tough little blade like this! Since its such a unique design, it makes a perfect gift for hard to shop for food lovers and makes the perfect addition to any knife lover's collection, no matter what they are interested in! 
6. The Astral Slicer Knife- 10" long blade
This is the answer to slicing a fresh smoked and well rested brisket, across a crusty loaf of sourdough or for preparing that special sushi dinner at home.
While this may be one of the least reached for knives in the roll, it might be one of the most handy blades in your arsenal.
‍
6 Primeaux Knives You Need in your Kitchen:
Black Maple Chef Knife

Zebra Maple Petty Knife

Spirit of the Kitchen Paring Knife

Obsidian Moon Santoku

Claro Walnut Petty Knife

Starfall Petty Knife
‍Good Luck and happy chopping!
xoxo The Primeaux Team*
*Primeaux (pronounced PREE-MOH) is comprised of an expert team of bladesmiths, cooks, artists, innovators, tastemakers and engineers designing professional-grade handcrafted cutlery and kitchen tools.