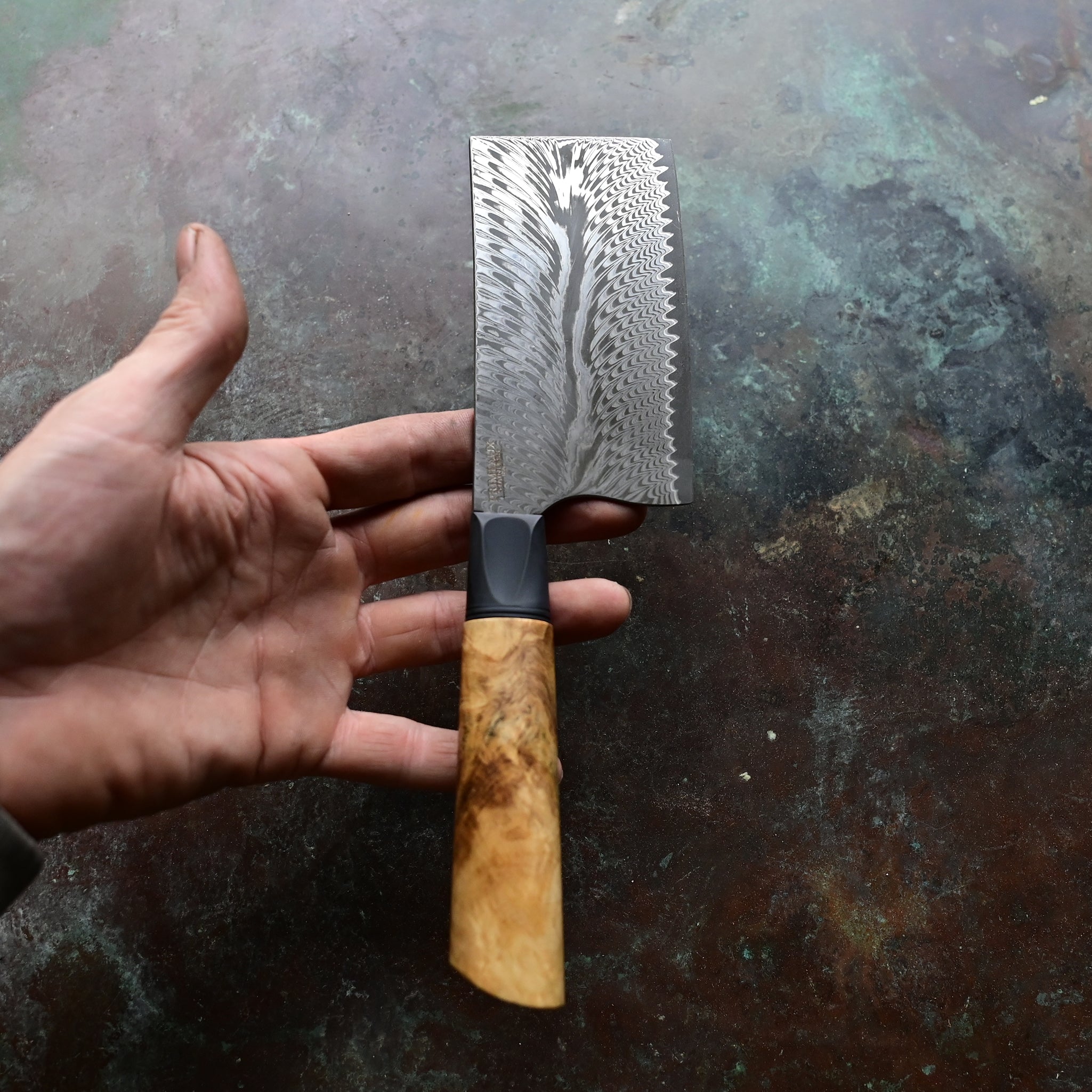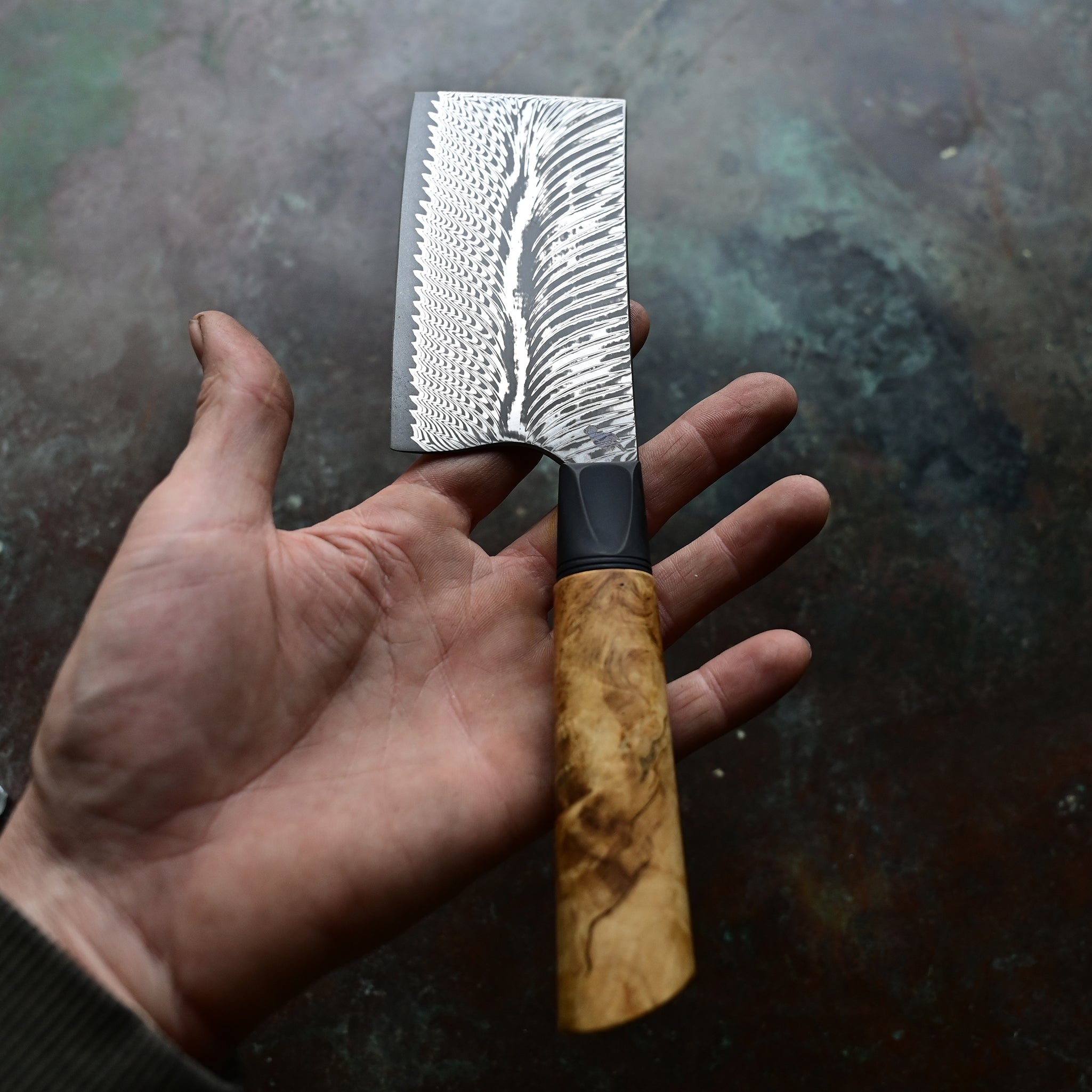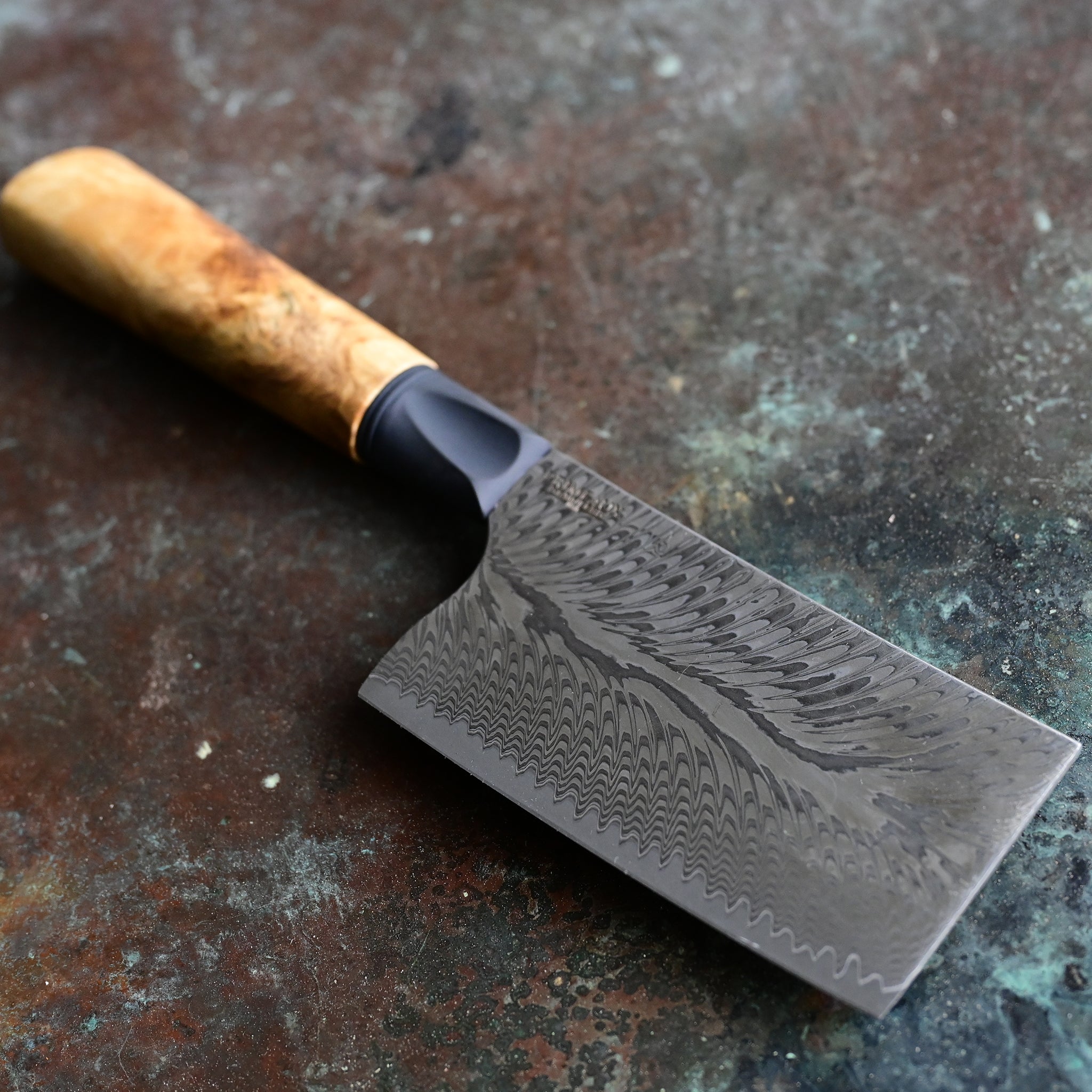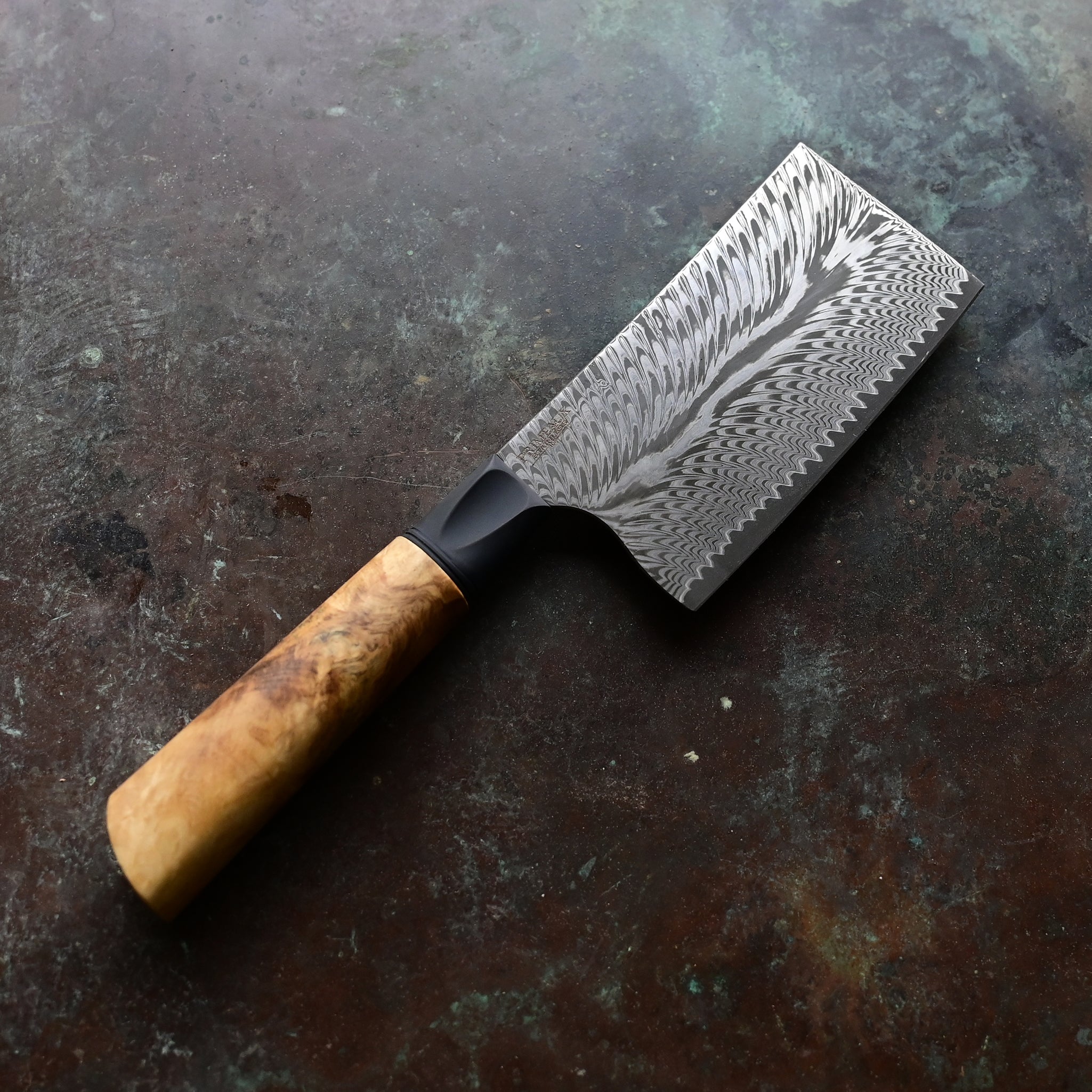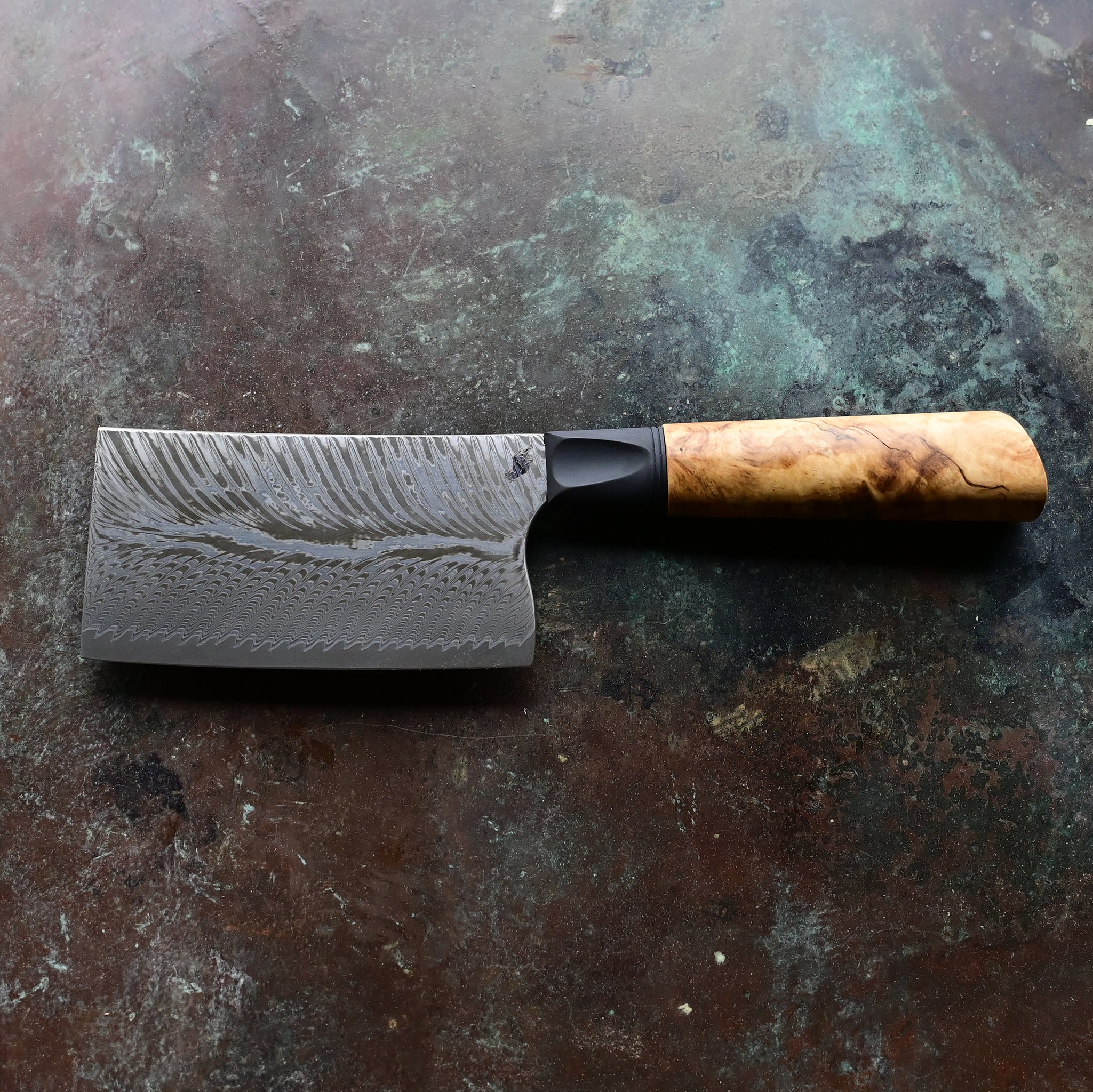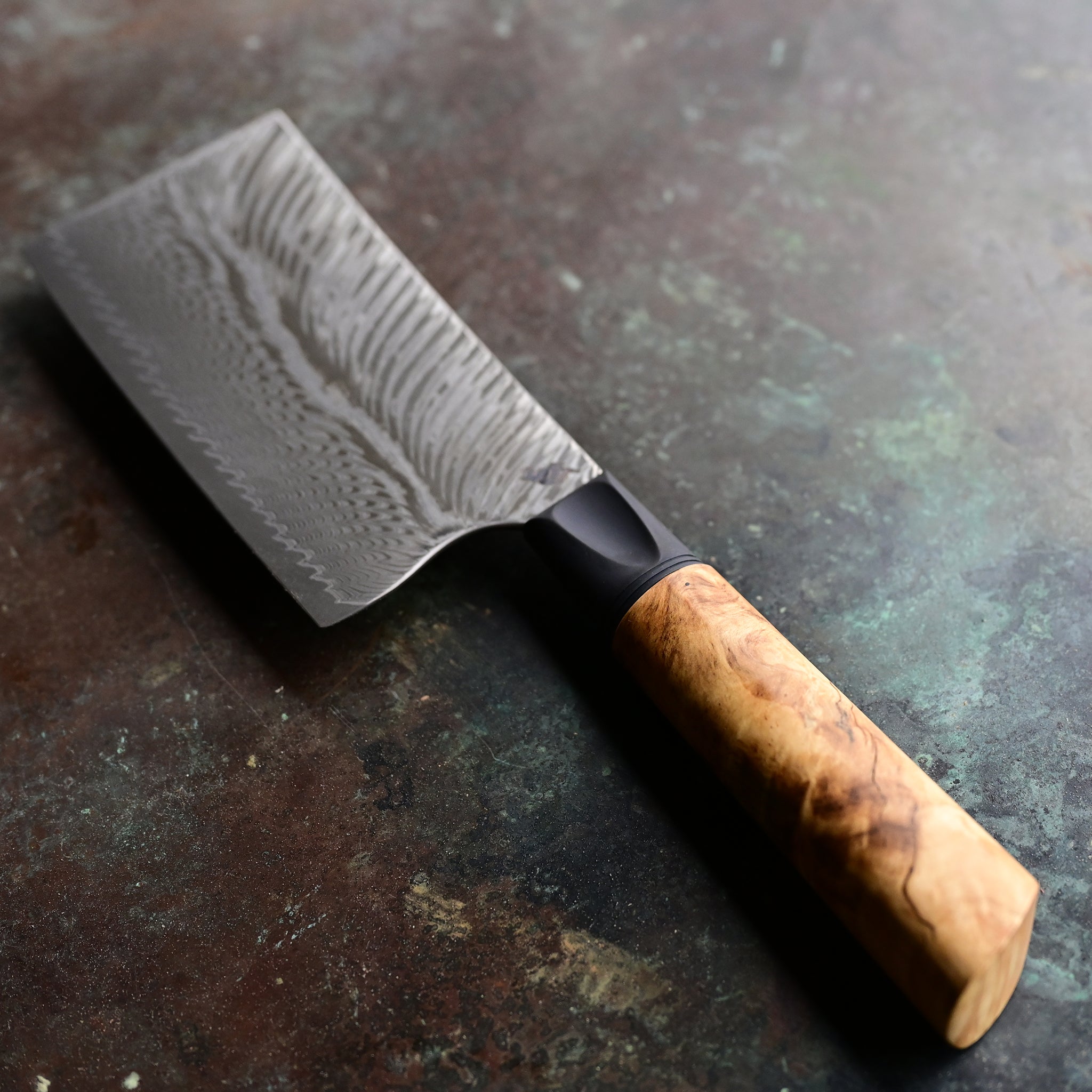 Buckeye Burl Feather Damascus Mini-Cleaver
Sale price

$550.00
Regular price
(/)
---
One-of-a-kind Buckeye Burl Wood Mini Cleaver by John Phillips
Price: $550
Availability: Exclusive Piece - Only One Available
Specifications:
Blade Length: 4.5"
Blade: VG10 Stainless Damascus Steel with Feather Pattern
Handle Material: Stabilized Buckeye Burl Wood
Bolster Material: Sleek Black Anodized
Overall Aesthetic: It's a looker! Heirloom-quality sustainable Buckeye burl wood with a stunningly intricate feather Damascus pattern and a perfectly balanced, modern bolster
Presenting the Buckeye Burl Wood Mini Cleaver, a singular creation in the realm of high-quality kitchen tools, meticulously hand-forged and stabilized by the esteemed and award winning knifemaker, John Phillips. With a price tag of $550, this exclusive item stands alone in its category, offering a unique opportunity for connoisseurs and chefs alike to enhance their collection with a tool that transcends the ordinary.
The blade, extending 4.5 inches in length, is forged from VG10 stainless Damascus steel, renowned for its enduring sharpness and resilience. It features an intricate feather pattern, adding an artistic touch and a layer of sophistication to the knife's overall design.
Balanced by a sleek black anodized bolster, the knife offers both a modern aesthetic and a comfortable grip, ensuring that it is as functional as it is beautiful. Every aspect of this knife, from the stabilization of the wood to the forging of the blade, has been executed with precision and care, reflecting John Phillips' unwavering commitment to his craft.
The handle is crafted from stabilized Buckeye Burl Wood, a material chosen for its striking patterns and deep, rich hues. This heirloom-quality wood ensures that each cut made with this mini cleaver is not just a culinary endeavor, but a luxurious and comfortable experience.
John Phillips embarked on his knifemaking odyssey with Phillips Forged, dedicating himself to crafting distinctive and exclusive pieces. His journey has been a complex tapestry of exploration in metallurgy and engineering, confronting challenges directly, and gleaning valuable lessons from each misstep. These rich experiences have culminated in the establishment of Primeaux, a brand that encapsulates his refined skills and deep-seated passion for the art of craftsmanship.
Seize this opportunity to own a unique, handcrafted knife that marries functionality with unparalleled craftsmanship. Act now and elevate your culinary experience with this exceptional one-of-a-kind Damascus Buckeye Burl wood mini cleaver.
Choose options