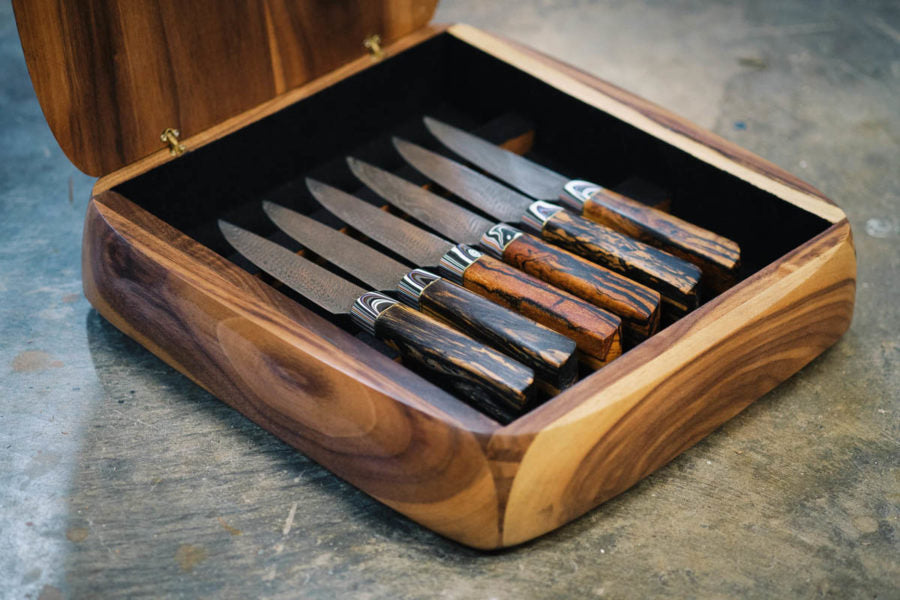 JOHN PHILLIPS MOVES TO LARGER STUDIO SPACE, LAUNCHES NEW LINE OF CUTLERY AND COOKWARE
Written by Knoxville Urban Guy-- "
Almost three years ago I introduced John Phillips to readers as he was just concluding his competition on Forged in Fire. Shortly thereafter the episode aired and was shown at a party hosted by John at Scruffy City Hall. I'll not spoil the conclusion if you haven't seen the episode, but let's just say John's artillery foot sword did very, very well. It seemed a good time to catch up with John in his brand-new studio and see what's happened with his business in the three years since.
A major new development came when John recently moved from the shed behind his house where it all started into a new shop at 908 Tyson Street, just down from Remedy Coffee. I met him there where we viewed machinery, 3-D printers and more that John couldn't have imagined having at his disposal three years ago. Some of the machinery had literally not been developed three years ago.
We started our tour with a look at his pneumatic power hammer. It required a hole be cut into the floor to allow four feet of concrete to be poured to support the machinery and the impact it brings. Another machine nearby was a 55-ton press that brings 110 thousand pounds of pressure. He works with high carbon steel and produces Damascus steel. The process involves merging layers of metal together at about 2,000 degrees and by applying 80,000 to 100,000 pounds of pressure. They are then shaped as desired.
Over the last three years, John has continued working out of his back yard making custom knives. Blackberry Farm is his only wholesale account and the combination of custom work, and the single account has been the most he could do alone working out of his old studio. He has worked toward finding middle ground between custom work, which isn't sustainable in the long-run, and wholesale. He wants to share his skills but needs to be able to do so directly and at a scale that makes his work more available and more affordable.
During the first year of the COVID-19 pandemic, he benefitted from teams of senior-level students from the Industrial Design Department, Industrial Engineering and Business who came in to analyze his procedures and his business model. Without the pandemic it would have never happened, as the students were typically assigned to major industrial plants. With the advent of the pandemic, those companies paused the program, which opened the door for a small local business like John's.
The group timed the process, did cost analysis on the products and delineated weaknesses. He said it illuminated machinery and personnel needed to make the process more efficient and cost-effective. They studied both his knife business and the cookware business that he'd been working on for some time. The data they produced allowed him to make a comprehensive business plan to present to a bank, which allowed him to finance the equipment he needed.
With the help of the teams, he was able to advance the cookware from an idea to a prototype and to delineate the process that would need to be in place for it to be manufactured. "Nothing like this cookware has ever been made before. It's a carbon-steel cookware." The cookware he has designed will be manufactured in Lenoir City at a car parts manufacturer who has massive presses that run four stories above ground and three stories below and bring millions of pounds of pressure.
He said the cookware has "no rivets on the inside, they are not going to be as fragile as cast iron, they'll be lighter than cast iron, but essentially the same quality. They'll have longer handles so you can get them out of the oven easier. They are faceted so you can articulate it." They've just gotten the first pictures of prototypes. "I'm trying to create a product that isn't going to end up in the trash . . . As a maker, as a person who creates things, I think it is a responsibility to honor the materials, to honor our time, and to make things that last."
He has been able to hire three full time people to help, including Cameron Kite, his primary assistant. He said doing all the work, from making the knives to sweeping the floor, sending invoices and shipping product, he realized he had to have help to allow him the time to do the creative work that brought him here in the first place. "The parts of the job that I loved were getting glossed over." He wants the business to be able to continue after he is gone, and he enjoys transferring his knowledge to others.
He looked for a larger place for over a year, knowing that he wanted to be near downtown. He came close on some other locations, but a group approached him to gauge his interest in the current spot and it was a fit. "I've signed a three-year lease. We're outgrowing this space and we haven't even opened up. I imagine I'm going to look to expand." The new building has 4,000 square feet, which is about four times the space he had before.
 He says he isn't looking to make a factory, but he is looking to expand the number of knives and the amount of cookware that can be produced. When he was working completely by hand, he might produce two knives in a month. "They are still going to be essentially hand-made pieces." As a part of the new process and the new cookware, he's introducing a new brand, "Primeaux," which represents the new way of producing and removes himself from the primary identity of the company.
They got the new building last fall but moved in this spring.  He hopes to have all the new product lines available this summer. There will be a public opening on May 6th."
John Phillips of Primeaux and Phillips Forged with Country Music Artist Sturgill Simpson-photo credit Kate Wiggeringloh